Secure SD-Branch

WAN Edge Transformation with Security-Driven Networking

Distributed branches transitioning to new tool sets are having a significant impact on the network. With both remote and local users directly accessing the internet for cloud and software-as-a-service (SaaS) applications, the WAN and LAN edges are getting more complicated than ever. Moreover, internet-of-things (IoT) devices entering the branch network need to be onboarded securely, or they can introduce new vulnerabilities for attackers to exploit. It is becoming critical to deploy next-generation branch networking strategies to support this new paradigm.
Recent surveys have shown that users see a need for WAN solutions that also integrate and offer common management with their internal LAN networking solutions. Additionally, branch security was the top concern across all respondents. SD-Branch aims to extend the features of SD-WAN across the entire branch network through consolidation of services and convergence of management. This reduces the burden on IT teams while improving overall branch security.
---
---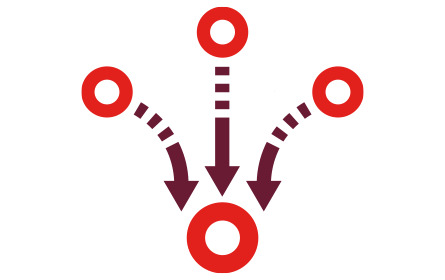 Secure SD-Branch Facilitates Digital Innovation
Fortinet Secure SD-WAN technology is integrated with network access to deliver the most secure and manageable remote branch in the industry. To address the explosion of IoT devices, Fortinet Secure SD-Branch further utilizes FortiGate next-generation firewall capabilities to offer NAC services onboard. Administrators can not only discover and secure IoT devices, but also detect anomalies by using FortiGate as a network sensor for our FortiNAC product.
Secure SD-Branch follows the Fortinet security-driven networking philosophy, powered by FortiLink, which integrates wired and wireless services into the security infrastructure through FortiOS. Key FortiLink benefits include a common management platform and integrated security, enabling Ethernet switch and WLAN interfaces to be controlled with the same level of enforcement as firewall interfaces. FortiLink switch and wireless integration requires no license. It is included as part of the FortiOS running on every FortiGate.
Fortinet SD-Branch enables customers to converge their security, WAN, and LAN, extending the benefits of the Fortinet Security Fabric to their distributed branches. Secure SD-Branch is comprised of FortiGate Secure SD-WAN, FortiSwitch, and FortiAP to deliver consolidation of branch services for LAN edge. To extend protection to the device edge, built-in NAC features in our FortiOS operating system allow for secure onboarding of devices. Additional real-time auditing of device behavior can be obtained by adding FortiNAC network access control capabilities.