Network Security

Consistent Convergence of Networking and Security with Unified Offering across All Network Edges
Secure Digital Acceleration
Growing and scaling digital business while protecting a distributed infrastructure has never been more critical or complex. Networks today are center of innovation and enable digital acceleration using network modernization. Fortinet's Secure Networking converges networking technologies with AI-powered security across all edges to close security gaps and help organizations achieve better user experience.
Fortinet's Security-Driven Networking
Digital acceleration has led to a rapid expansion of attack surfaces and creation of new network edges, including LAN, WAN, 5G, remote workers, and clouds. Fortinet's Security-Driven Networking approach is the industry's only converged networking and security platform. This convergence enables AI-powered defense of today's highly dynamic environments while enabling better productivity and user experience.
---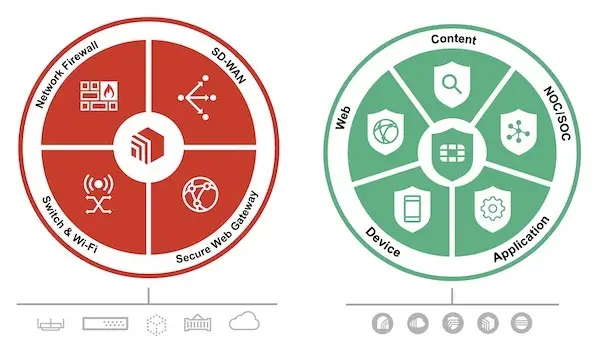 Leading Innovations of Networking and Security
The FortiGate NGFW is the core component of Secure Networking. FortiGate is powered by the FortiOS operating system and purpose-built security processors (SPUs). These innovations enable the most complete convergence of networking and security by eliminating the need for point products. Our unified offering of SD-WAN, NGFW, SWG, ZTNA enforcement, LAN edge, and wireless WAN 5G/LTE are available to deploy on any network edge. Real-time protection against known and unknown threats is achieved with FortiGuard security services.
---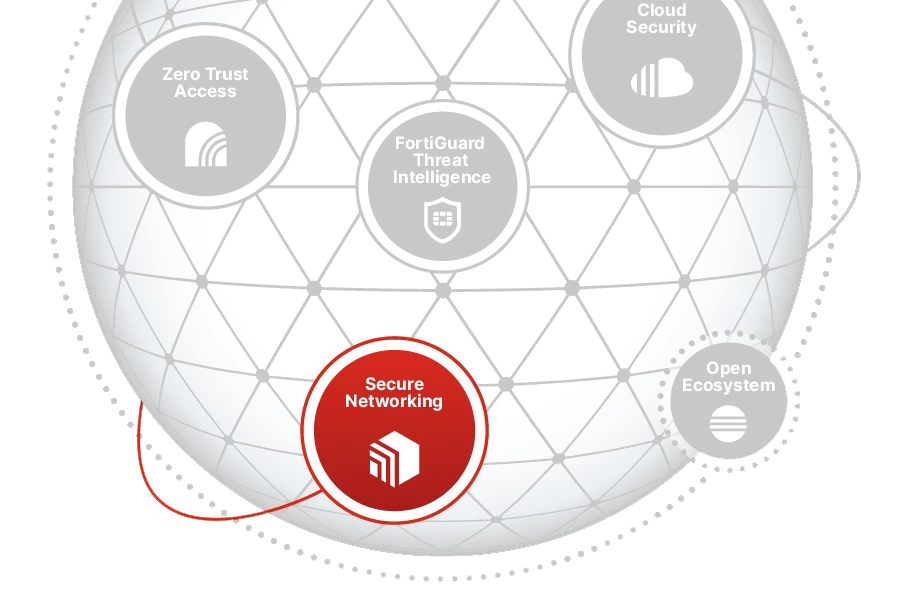 Secure Networking
Secure and Modern Networking Technology
The convergence of security and networking closes security gaps and simplifies management, saving time and costs.
SD-WAN and LTE/5G for WAN Transformation
Fortinet delivers fast, scalable, and flexible Secure SD-WAN for cloud-first, security-sensitive, and global enterprises. Our Security-Driven Networking approach converges SD-WAN, next-generation firewall (NGFW), and advanced routing to deliver a secure and better user experience. FortiGate provides an SD-WAN and LTE/5G controller at no extra cost to deliver instant ROI.
---
Secure Switches and Wireless with LAN Edge
LAN edge equipment from Fortinet converges networking and security into a secure, simple-to-manage architecture with a single point for management and configuration. By leveraging Security-Driven Networking, Fortinet allows organizations to secure Ethernet switches and wireless LAN without the need for costly and complex licensing schemes.
---
Universal ZTNA Enforcement
FortiGate NGFW is the only network security solution in the industry with ZTNA enforcement to enable explicit application access. With flexible deployment offerings, Fortinet enables universal ZTNA enforcement for the hybrid workforce.
---
Centralized Management and Network Automation
Centralized management enables provisioning and management of both networking and security products with one console. Network automation uses network and security software tools to maximize efficiency and functionality of the network to further reduce complexity.
---
Comprehensive and Consistent Web Security Everywhere
Fortinet Secure Web Gateway offers defense-in-depth security including web filtering, DNS Security, inline CASB, antivirus, antimalware, anti-botnet, SSL inspection, data loss prevention, and more. This enables secure internet access and secure private access. With a flexible cloud-delivered and on-prem offering, Fortinet enables consistent web security posture across the entire infrastructure.
---
Want to Learn More? Contact Us!