Fortinet FortiCare

Technical Support, Advanced Support, and Professional Services
Hit the ground running with new capabilities Fast-track return on investment with streamlined migration and deployment

Get expert help when you need it Accelerate incident resolution and maximize efficacy with 24x7 assistance from technical experts

Enhance your security with tailored guidance Increase productivity and avoid incidents with operational reviews, account planning, and upgrade assistance
---
Overview:
Expertise at Your Service
24x7 Global Support


1,400+ NSE and Industry Certified Global Resources


3 Regional Centers of Expertise


23 Support Centers


40 Regional Depots


200+ In-country Depots


4-hour Expedited Hardware Replacement Availability


Services
FortiCare Support Services - is per-device support services, and it provides customers access to over 1,400 experts to ensure efficient and effective operations and maintenance of their Fortinet capabilities. Global technical support is offered 24x7 with flexible add-ons, including enhanced service level agreements (SLAs) and premium hardware replacement through 200+ in-country depots.
Advanced Support - is account-based services, and provides high-touch account management and business guidance through designated resources to meet the needs of enterprises and service providers. Additionally, Enterprise Support Agreements (ESAs) are available to simplify consumption of the services.
Professional Services - provides accelerated implementation and configuration optimization through QuickStart or custom engagements leveraging the services of highly skilled experts to promote first-time accuracy and avoid costly post-deployment issues.
---
Feature Highlights: Technical Support
Organizations depend on Fortinet solutions to provide critical services. If any issues arise, they need to be addressed quickly to help ensure security and business continuity. Flexible support options help organizations maximize uptime, security, and performance according to the individual needs of each business.
Fortinet offers three different per-device support options to meet the needs of different devices, i.e., FortiCare Essential, FortiCare Premium, and FortiCare Elite. Organizations have the flexibility to buy different levels of service for different devices based on their needs.
FortiCare Essential
FortiCare Essential is the base-level service, and it is targeted toward devices that require a limited amount of support and can tolerate next-business-day, web-only response for critical as well as non-critical issues. This service is only offered to FortiGate models 8x and below and to low-end FortiWifi devices.
FortiCare Premium
FortiCare Premium is targeted toward devices that require 24x7x365 with one-hour response for critical issues and the next business-day response for non-critical issues.
FortiCare Elite
FortiCare Elite offers enhanced servicelevel agreements (SLAs) and accelerated issue resolution. It is targeted toward devices that require prompt attention. This offer also provides Extended Endof-Engineering Support (E-EoES) for Long-Term Supported Firmware (LTS) of 18 months for added flexibility. In addition, it offers access to the new FortiCare Elite Portal that is intuitive and provides a single unified view of device and security health.
FortiCare Service Offerings
FortiCare Included Features

Per-device Service Options

FortiCare ESSENTIAL

FortiCare PREMIUM

FortiCare ELITE

RMA

Return and replace only

Advanced replacement (PRMA available)

Advanced replacement (PRMA available)

Web Support

✔

✔

✔

Telephone Support

-

✔

✔

Firmware Updates

✔

✔

✔

Asset Management Portal

✔

✔

✔

Response Time (Critical Issue)

Next business day

1 hour

15 mins

Response Time (Non-Critical Issue)

Next business day

Next business day

2 business hours

Extended End-of-Engineering-Support (E-EoES) for Long Term Supported Firmware (LTS) of 18 months*

-

-

✔

Device Insights and Monitoring Portal (FortiCare Elite Portal)

-

-

✔
*Currently available for FortiGate only
---
Feature Highlights: Advanced Support
For enhanced security and tailored guidance, FortiCare Advanced Support gives you direct assistance from technical experts who know your business and can help accelerate issue resolution. With designated account management and service delivery, you can focus on your business while we focus on your success.
Entitlements vary by level but can include:
| | |
| --- | --- |
| Designated Advanced Technical Support | for focused resolution of incoming technical support issues. |
| Service Relationship Management | annual service and performance review. Quarterly operational review to cover technical ticket statistics, quality issues, overall ongoing ticket analysis, product life cycle, ongoing activity, and 90-day project planning. |
| Root Cause Analysis | of critital incidents (Priority-1 and Priority-2) related to Fortinet appliances. |
| Upgrade Assistance | which may include software recommendation, upgrade testing, and planning assistance. |
| Advanced Service Points | for remote after-hours assistance, product upgrade assistance, and software recommendations. |
| Annual Training Package | including NSE 4 and NSE 5 training and certification vouchers. |
In addition, Global PRO and Global PRO Plus are available to extend the geographical coverage of the service. These services provide a designated Technical Account Manager per manager covering EMEA, Americas, and Asia Pacific.
---
Feature Highlights: Professional Services
As networks and threats rapidly evolve, it's critical to make sure security capabilities can keep up. Given the global cybersecurity skills shortage, today's organizations often lack the in-house expertise or enough staff to deploy, operate, and maintain the new technologies required to close security gaps. FortiCare Professional Services delivers expert help to ensure Fortinet deployments are optimized for each customer's unique needs.
Professional Services provides Design, Deploy, Operate, Optimize, and Evolve services. In addition, Professional Services also offers product-agnostic consulting services.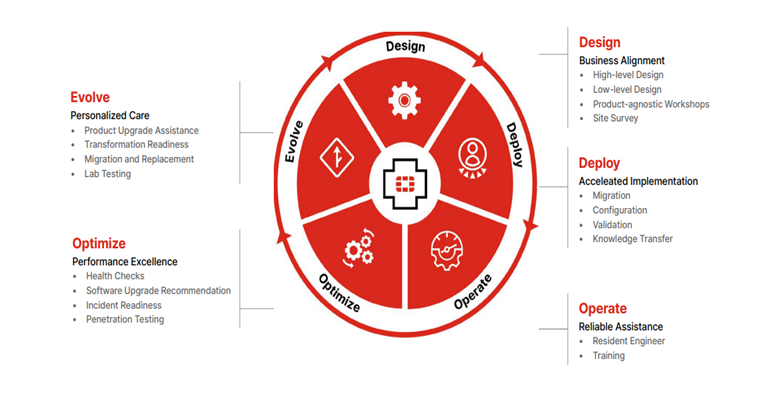 Key benefits to engaging Fortinet Professional Services:
| | |
| --- | --- |
| Faster Time-to-Value | Hit the ground running with new capabilities, achieve faster time-to-value with streamlined expert deployment of Fortinet products and solutions. |
| Increased Service Uptime | Achieve increased uptime by leveraging subject matter experts who can proactively review changes, performance, and policies for reliability and sustained security. |
| Access to Industry Expertise | Supplement in-house teams with dedicated resources that can bring industry expertise to perform upgrades or handle technical incidents. |
| Increased Productivity | Increase staff productivity by offloading redundant operational tasks including configurations to Fortinet domain experts who know your business |
Cybersecurity Advisory and Consulting Services allow our experts to partner with business leaders, helping organizations be at their best through this ever-changing environment. Fortinet experts discover existing security posture elements through a vendor-agnostic approach; align findings to business goals, strategic objectives, and compliance requirements; and guide existing projects and future planning toward framework maturity.