Overview
FortiGate delivers fast, scalable, and flexible Secure SD-WAN on-premises and in the cloud. Fortinet Secure SD-WAN supports cloud-first, security-sensitive, and global enterprises, as well as the hybrid workforce. Our Secure Networking approach uses one operating system and consolidates SD-WAN, next-generation firewall (NGFW), advanced routing, and ZTNA application gateway functions.
Simplify Your Network and Security with Fortinet Secure SD-WAN
Fortinet Secure SD-WAN is foundational for a seamless transition to SASE and SD-Branch. It enables organizations to protect their investment and simplify operations along their journey to a Zero Trust Architecture.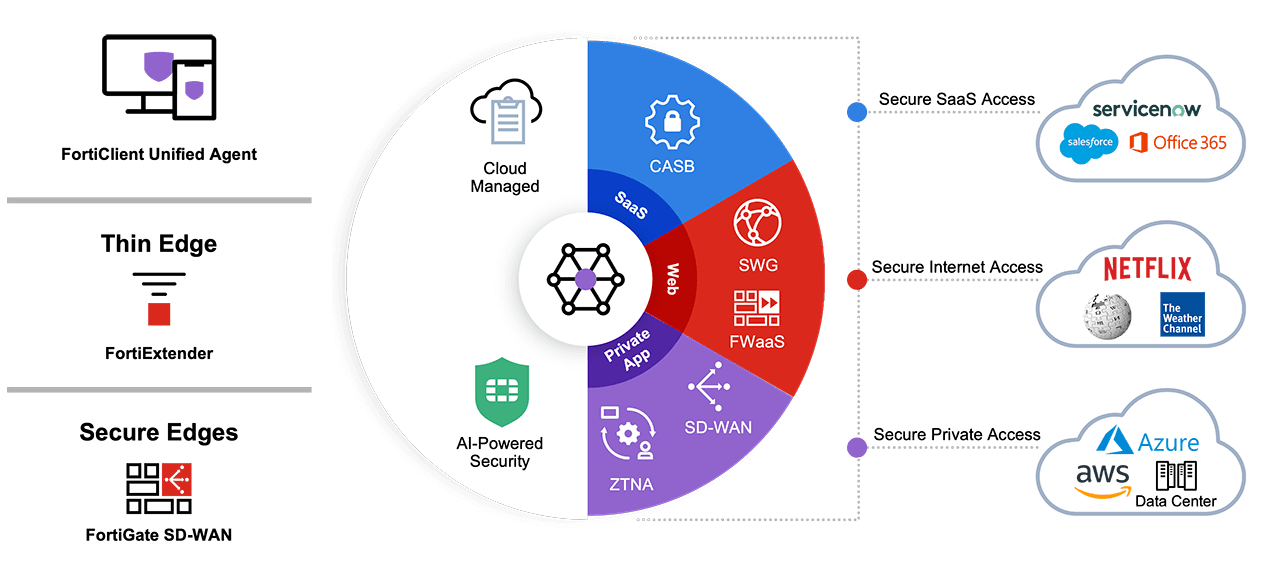 Fortinet Secure SD-WAN Is Foundational for a Seamless Transition to SASE
FortiSASE helps extend secure access and high-performance connectivity to users regardless of their geographic locations. FortiSASE delivers a full set of networking and security capabilities including secure web gateway (SWG), universal zero-trust network access (ZTNA), next-generation dual-mode cloud access security broker (CASB), Firewall-as-a-Service (FWaaS), and secure SD-WAN integration. With a unified solution, you can:
Overcome security gaps
Simplify operations and enhance security and networking analytics
Shift to an OPEX business model with simple user-based tiered licensing
Get End-to-End Visibility, Analytics, and Reporting to Accelerate Zero-Trust Initiatives
Organizations are embarking on zero-trust initiatives to deliver enhanced security postures across highly distributed environments. Fortinet Secure SD-WAN, along with FortiManager and FortiAnalyzer, provide granular visibility into network traffic, analyze traffic data, and automate response based on the results. This requisite functionality enables the acceleration of zero-trust initiatives.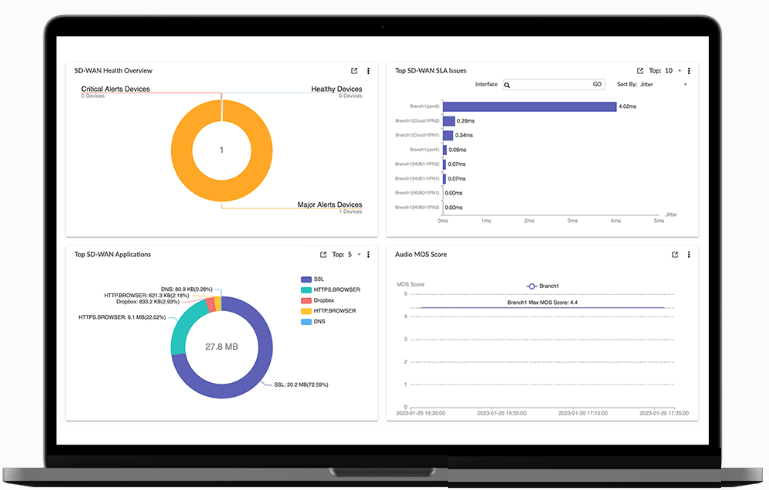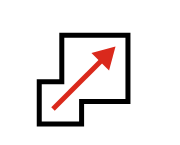 APPLICATION RESILIENCE
Ensures the highest level of application availability and performance over any WAN transport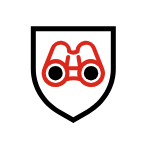 INTEGRATED ADVANCED SECURITY
Converges the most advanced NGFW and routing to deliver consistent security on- and off-network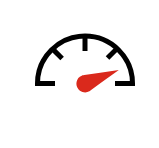 SCALABLE, HIGH PERFORMANCE
Transforms and secures SD-WAN at scale with no performance impact thanks to our WAN ASIC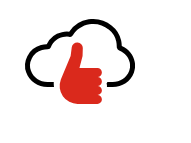 MULTI-CLOUD ON-RAMP
Enables secure, fast connectivity and high performance to, in, and between cloud applications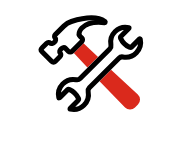 ZERO-TOUCH PROVISIONING
Enables large scale, faster deployment of Fortinet Secure SD-WAN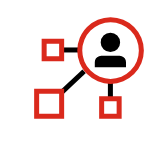 CENTRALIZED ORCHESTRATION
Centrally manages deployments, configurations, and operations with visibility, analytics, & reporting
Secure SD-WAN Use Cases
ENHANCE HYBRID, MULTI-CLOUD
Enable secure, seamless, faster connectivity to the cloud, in the cloud, and between clouds.
FortiGuard AI-Powered Security Service
Fortinet Secure SD-WAN supports the seamless convergence of SD-WAN and AI-powered security using a single, consistent operating system, FortiOS. Fortinet uniquely delivers a unified security and management framework for users and networks based on ASIC-accelerated SD-WAN, Zero Trust Network Access (ZTNA), and SASE to support high-performance prevention. SD-WAN network transformation initiatives require an evaluation of all internet-facing security as well as local segmentation. Fortinet's powerful combination of deep SSL packet inspection and DNS/URL/Video filtering, AV, inline sandbox, IPS, and IoT/OT security services offers the best protection.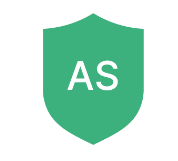 Antispam
Dramatically reduces spam at the perimeter through a multi-layered approach to filtering email.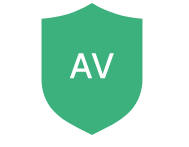 Antivirus Service
Protects against the latest polymorphic attacks, viruses, malware (including ransomware), and other threats.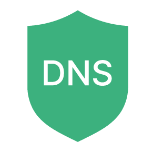 FortiGuard DNS Security
Provides full visibility into DNS traffic while blocking high-risk domains including malicious newly registered domains (NRDs) and parked domains.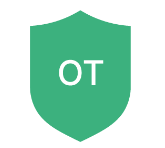 FortiGuard Industrial Security Service
Identifies and polices most of the common ICS/OT/SCADA protocols for granular visibility and control with continuously updated signatures.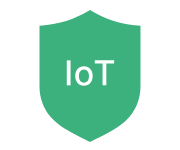 FortiGuard IoT Detection Services
Automatically discovers and segments IoT devices based on FortiGuard threat intelligence, and enforces appropriate policies.

FortiGuard IPS Service
Provides the most up-to-date defenses against both known and previously unknown threats and vulnerabilities.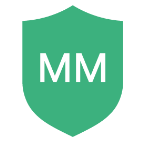 FortiGuard Mobile Security Service
Stops the latest malware variants with proactive technologies able to block previously unknown threat variants.

Inline Sandbox Service
Protects against sophisticated malware and zero-day threats using advanced file analysis in a protected environment.

Security Rating Service
Guides users to design, implement, and continually maintain the target Security Fabric security posture best suited for their organization.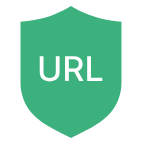 FortiGuard URL Filtering Service
Provides comprehensive threat protection to address threats including ransomware, credential-theft, phishing, and other web-borne attacks.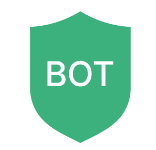 IP Reputation & Anti-Botnet Security
Aggregates malicious source IP data from the Fortinet distributed network of threat sensors, CERTs, MITRE, and other sources that collaborate to provide up-to-date threat intelligence.
Models and Specifications
Available in all form factors including physical and virtual appliances. Flexible capacity enables the highest application experience. FortiManager can be used to monitor and manage FortiGate appliances and is also available in different form factors including hardware, virtual, and SaaS.
Fortigate Public Cloud
Amazon Web Services (AWS), Microsoft Azure, Google, and Oracle support both bring-your-own-license (BYOL) and on-demand (pay-as-you-go). Please see the Marketplace listings for more information:
FortiGate on AWS
FortiGate on AWS (BYOL)
FortiGate on Azure
FortiGate on Google
FortiGate on Google (BYOL)
FortiGate on Alibaba
FortiGate on Alibaba (BYOL)
FortiGate on Oracle (BYOL)
FortiManager on AWS
FortiManager on Azure
Total Savings of 33% over 3 Years

This calculation is for estimation purposes only and doesn't account for legacy router maintenance cost.
FortiCare Support & Professional Services
Fortinet is dedicated to helping our customers succeed, and every year FortiCare services help thousands of organizations get the most from their investments in Fortinet's products and services. To achieve this, FortiCare follows the life-cycle approach and provides unique services to help our customers in their success journeys.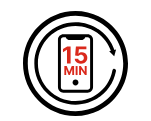 Technical Support Services
Various per-device options are available for efficient operations. FortiCare Elite option provides a 15-minute response time for critical products.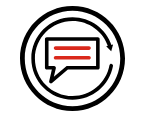 Advanced Support
Various per-account white glove services are available to reduce disruption and increase productivity with operational reviews by designated experts.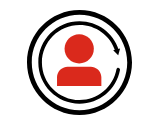 Professional Services
Our multi-vendor experts can design and deploy a complete best practice-based solution to help you meet your network or security objectives and adopt new capabilities.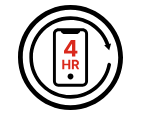 RMA
Premium RMA options are available across the product family for expedited replacement of defective hardware to meet your availability objectives.