Fortinet SASE Solution

Cloud Delivered Security for Distributed Networks
Over the past few years, organizations have been engaged in constantly expanding their multi-edge networking strategies to not only enable new work-from-home realities but also support workers as they become increasingly dependent on cloud applications and environments to do their jobs. But as these networks expand to meet new business demands, the attack surface increases. And unfortunately, most legacy security solutions in place have been unable to keep pace with cloudbased networking innovations.
The result is a growing gap between network functionality and security coverage that not only inherently exposes organizations to more points of compromise but also degrades the user experience of those remote workers that still rely on conventional, virtual private network (VPN)-only solutions to access the network. This is usually because all of their application traffic still needs to be backhauled through the network to receive security protections and access controls.
Secure access service edge (SASE) has been developed to address these issues, enabling organizations to rapidly converge and scale-out their security and networking strategies. With SASE, they can securely deliver an expanding and dynamic set of new network edges as well as meet the new demands of a hybrid workforce distributed between on- and off-network users.
Because supporting this new distributed and performance-heavy strategy is now fundamental to succeeding in today's digital marketplace, selecting the right SASE vendor to partner with can mean the difference between operational success and struggling to keep all of the essential elements working together. In theory, SASE provides secure access to the cloud for users anywhere. However, not all SASE solutions are equal in terms of scalability, security, and orchestration—which translates to increased overhead both in terms of the technologies that need to be implemented and the IT staff needed to get them to work as an integrated system.
What's in a SASE Solution?
With networks expanding beyond the WAN edge to thin branch networks and the cloud, traditional hub and spoke infrastructure models centered around the corporate data center begin to break down. A new networking and security strategy is required that combines network and security functions with WAN capabilities to support the dynamic, secure internet access for a "work from anywhere" workforce. That strategy is Secure Access Service Edge, or SASE.
SASE extends networking and security capabilities beyond where they have typically been available, allowing users, regardless of location, to take advantage of firewall-as-a-service (FWaaS), secure web gateway (SWG), zero-trust network access (ZTNA), and a medley of other threat detection functions.
Fortinet Brings Networking and Security to the Cloud
Fortinet's fully integrated SASE solution provides the broadest range of security-driven networking solutions on the market. Rather than an isolated, cloud-only approach, FortiSASE offers SASE services as an extension of the Fortinet Security Fabric to extend and leverage the power of FortiOS—the common operating system that ties the entire portfolio of Fortinet security solutions—everywhere. This unified, distributed model gives FortiSASE users a powerful suite of SASE services that are not only intuitive to deploy and manage, but that ensure consistent protections across dynamic and distributed networks.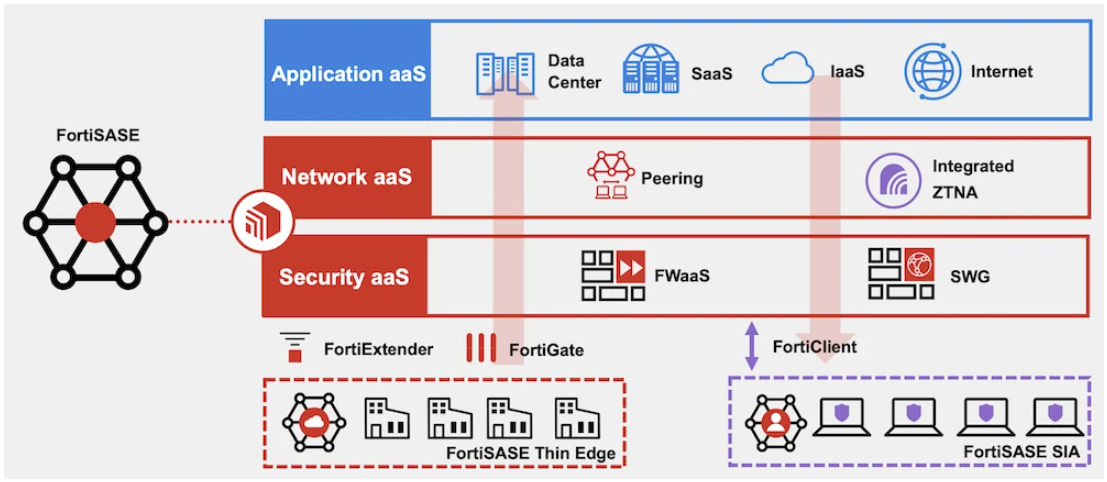 With FortiSASE, Fortinet becomes the only vendor capable of providing consistent protection across every network edge. FortiSASE delivers advanced enterprise-grade security via cloud-based consumption, eliminating common security gaps with no impact to workflow operations for cloud and thin edge users.
What Problems Do Secure Access Service Edge (SASE) Solutions Solve?
As organizations adopt multi-cloud strategies and remote workforce policies, networks have grown more distributed and workers more dependent on cloud applications and environments to do their work. This expanding network also increases the attack surface. Most security solutions, however, have not kept pace with cloud-based networking innovations. This inherently exposes organizations to more points of compromise and degrades the user experience of remote workers dependent on conventional VPN-only solutions to gain network access.
For organizations struggling to adapt and secure a hybrid workforce comprised of a growing remote workforce, SASE offers a more scalable, centralized way of securing them. Since SASE is a cloud-delivered solution, it also allows organizations to shift away from purchasing numerous point-products to secure different parts of their networks and adopt a more operational cost service model as well.
In theory, SASE provides secure access to the cloud for users anywhere. With this said, not all SASE solutions are equal in scalability, orchestration, and security.
How Fortinet's SASE Service Can Transform Your Business
As a cloud-delivered multi-tenant solution with the common Fortinet operating system (FOS), ForitSASE allows security and infrastructure leaders a way to centrally provision, visualize, and manage all users within their networks on a per-device basis.
Additionally, FortiSASE is seamlessly orchestrated with the extensive Fortinet Security Fabric of over 30 solutions and an open ecosystem of over 300 partners. Organizations can take advantage of full access to the innovation, threat intelligence, and advanced, actionable services provided by FortiGuard Labs.
With FortiSASE, the following capabilities and tools are extended to the cloud: 
Firewall-as-a-Service (FWaaS): Leveraging the independently certified and acclaimed capabilities of Fortinet FortiGate Next-Generation Firewall combines high-performance SSL inspection and advanced threat detection techniques delivered via the cloud with FortiSASE. Establish and maintain secure connections for distributed users and analyze in-bound and out-bound traffic without impact on user experience.
Domain Name System (DNS): With FortiSASE, automatically prevent malicious domains identified in real-time from threatening your core network.
Intrusion Prevention (IPS): With FortiSASE you have access to the Fortinet Intrusion Prevention System, which monitors the network, looking for malicious activities attempting to exploit known vulnerabilities.
Data Loss Prevention (DLP): FortiSASE provides DLP functionality to prevent end users from moving key information outside the network, making sure that both your network and data, are secure.
Secure Web Gateway (SWG): Enjoy the power of Fortinet Secure Web Gateway to secure web access against both internal and external risks. Automatically block threats in encrypted traffic, including TLS 1.3 with the industry's highest SSL inspection performance.
ZTNA and VPN: With FortiSASE, you add enterprise-grade security on top of VPN and extend zero-trust network access to remote users. This allows FortiSASE to inherently integrate with pre-existing VPN solutions and extend zero-trust application access to remote off-network users.
Sandboxing: Whether sandboxing is executed in the cloud or on an appliance, it provides crucial protection. FortiSASE delivers sandboxing via the cloud, ensuring that your organization stays ahead of bad actors wishing to access or compromise your system.
All of these capabilities combined make Fortinet the only networking and security vendor that can provide security at every network edge.