Fortinet FortiSOAR

Adaptive Security for SOC Teams and Enterprises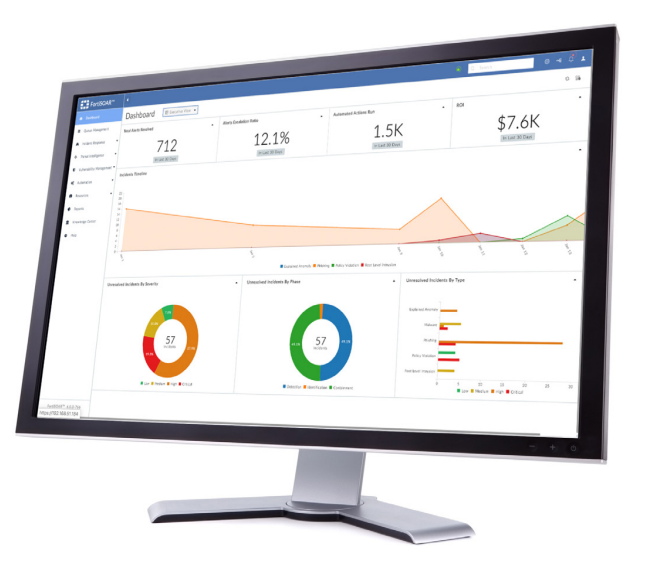 Fortinet Products
FortiSOAR Enterprise Edition
FortiSOAR Enterprise Edition - 2 User Logins Included (Perpetual License)
FortiSOAR Multi Tenant Edition
FortiSOAR Multi Tenant Edition - 2 User Logins Included (Perpetual License)
FortiSOAR Multi Tenant Edition - Dedicated Tenant - 1 User Login Included (Perpetual License)
FortiSOAR Multi Tenant Edition - Regional SOC Instance - 2 Users Login Included (Perpetual License)
FortiSOAR MultiUser Seat License
FortiSOAR User Seat License - Additional User Logins (Perpetual License) - add-on by 1
Click here to jump to pricing!
Overview:
FortiSOAR™ is a holistic Security Orchestration, Automation and Response workbench, designed for SOC teams to efficiently respond to the ever-increasing influx of alerts, repetitive manual processes, and shortage of resources. This patented and customizable security operations platform provides, automated playbooks and incident triaging, and real-time remediation for enterprises to identify, defend and counter attacks. FortiSOAR™ optimizes SOC team productivity by seamlessly integrating with over 300+ security platforms and 3000+ actions. This results in faster responses, streamlined containment and reduced mitigation times, from hours to seconds.

Pricing Notes:
FortiCare Premium Support
FortiCare Premium Ticket Handling, Advanced Hardware Replacement (NBD), Firmware and General Upgrades, VPN, and Traffic Management
Prices are for one year of Premium RMA support. Usual discounts can be applied.
Annual contracts only. No multi-year SKUs are available for these services.
Contact Fortinet Renewals team for upgrade quotations for existing FortiCare contracts.
Pricing and product availability subject to change without notice.