It's time to say goodbye to VPNs
Why zero-trust network access may be a better choice than traditional VPNs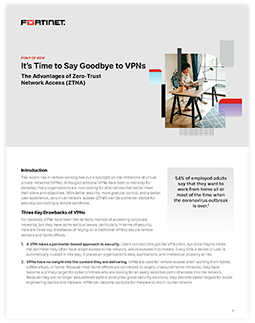 The shift to widespread telework has put a spotlight on the limitations of traditional virtual private network (VPN) solutions for connecting the workforce to network resources. Check out this short point-of-view paper to find out:
Three key drawbacks of VPNs
Why ZTNA is a better option
Five advantages of ZTNA solutions
Introduction:
The recent rise in remote working has put a spotlight on the limitations of virtual private networks (VPNs). Although traditional VPNs have been a mainstay for decades, many organizations are now looking for alternatives that better meet their plans and objectives. With better security, more granular control, and a better user experience, zero-trust network access (ZTNA) can be a smarter choice for securely connecting a remote workforce.
Summary:
More organizations are recognizing the need to transition away from traditional VPNs. ZTNA is proving to be a better solution, easier to use with the added benefit of adding application security to a remote access solution. Organizations should be careful to select ZTNA solutions that integrate with their existing infrastructure. Building a zero- trust network access solution requires a variety of components, which may include a client, a proxy, authentication, and security that can be used to apply ZTNA to remote users, no matter where they're located.
---