Fortinet Private Cloud Security

Advanced Security for Private Cloud, SDN, and Virtualization Platforms
Private Cloud Security Solutions Overview
Virtualization and software-defined network (SDN) security are rapidly transforming data centers into agile, innovative, software-defined, and cost-effective private clouds. Yet, security is often an afterthought when it comes to private cloud deployments. Traditional security cannot keep up with these new environments, creating security gaps or manual security processes that negate the benefits of virtualization and SDN firewalls. Private cloud requires a software-defined approach to security due to the lack of visibility posed by east-west traffic and virtualized services.  Private cloud and software-defined data center (SDDC) assets need advanced protection from evolving threats, both known and unknown.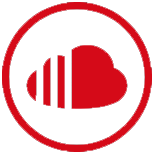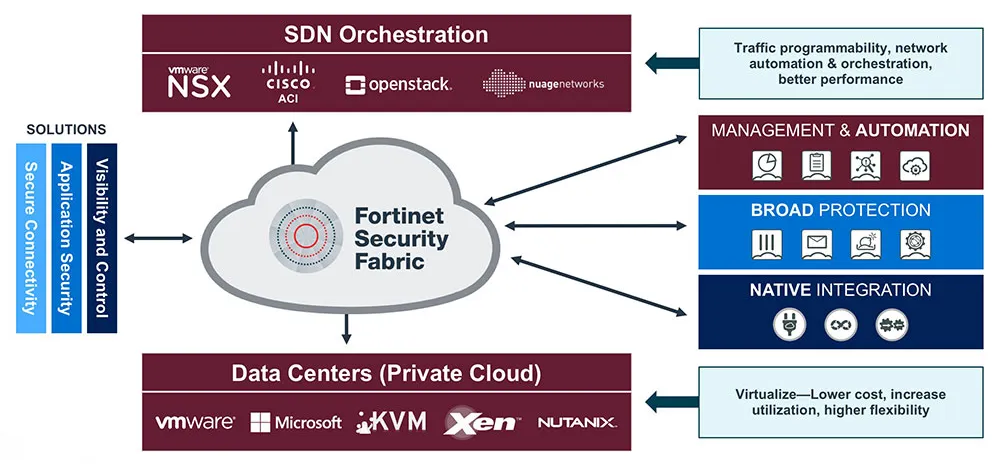 Fortinet Security Fabric for the Cloud
Fortinet Security Fabric is an architectural approach that unifies the security technologies deployed across the digital network, including multi-cloud, endpoints, email and web applications, and network access points, into a single security system integrated through a combination of open standards and a common operating system.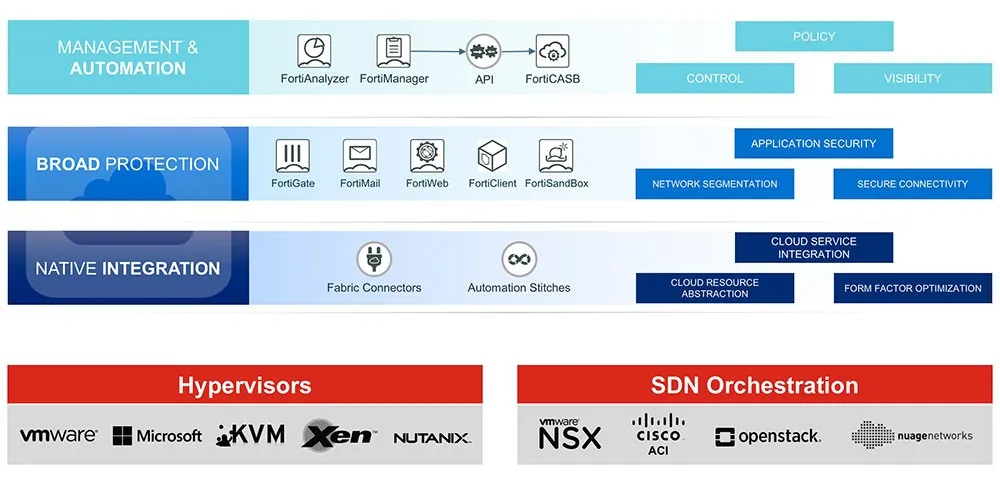 FortiGate Virtual Next-generation Firewall
FortiGate-VM next-generation firewall can be deployed as a virtual appliance in private and public cloud environments, either as a BYOL instance or provisioned on-demand via public cloud marketplaces.
FortiManager and FortiAnalyzer virtual machines are all supported on VMware vSphere, Citrix Xen Server, Xen, KVM, and Microsoft Hyper-V.
Secure NSX Environment with FortiGate VMX
FortiGate Virtual Firewall simplifies policy provisioning and provides deep visibility as well as automated enforcement in VMware NSX based Private Cloud environments.
Use Cases
Security in the cloud enables the confidence to safely deploy applications in the software-defined data center and private cloud, improving overall organizational agility and ability to respond to market demand. By leveraging Fortinet Security Fabric solutions to deploy use case driven security capabilities, organizations benefit from market-leading security with streamlined management functionality. Following is a set of common deployment scenarios of Fortinet's Security Fabric in the private cloud.
North-South Advanced L7 Security Protection
Organizations expanding their networks to accommodate the rapid deployment of data center-based services may often discover a strain on the security architecture's ability to handle a subsequently growing security threat landscape. Implementing a virtual next-generation firewall with FortiGate-VM in the virtualized data center or private cloud provides extensive visibility and control of the infrastructure. FortiGate-VM automatically provisions and scales security, and has broad support for leading hypervisors, software-defined networks (SDNs) and cloud platforms. It provides advanced Layer 7 protection for north-south traffic in virtualized data centers.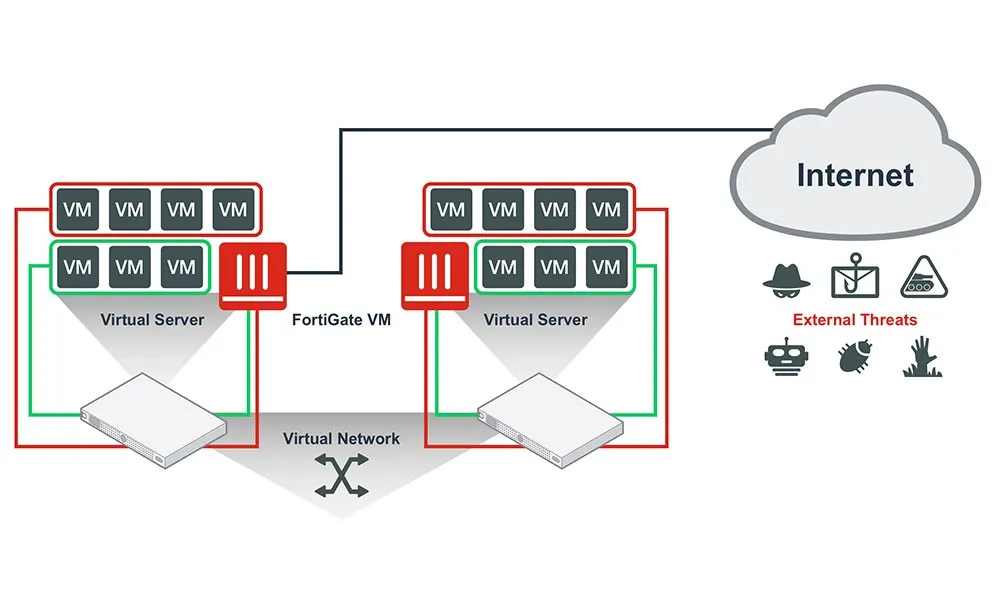 Intent-Based Segmentation: East-West Advanced L7 Security Protection
Microsegmentation is a method of creating secure zones in data centers and cloud deployments that allows companies to isolate workloads from one another and secure them individually. Virtualization and SDN increase east-west traffic in software-defined data centers (SDDC), and poor visibility into traffic between VMs increases risk from security breaches. FortiGate-VM provides microsegmentation and control of east-west traffic in the SDDC, for workload isolation and application-aware security policy. It allows granular policy segmentation and isolation across clustered resources to provide visibility across the entire SDDC infrastructure.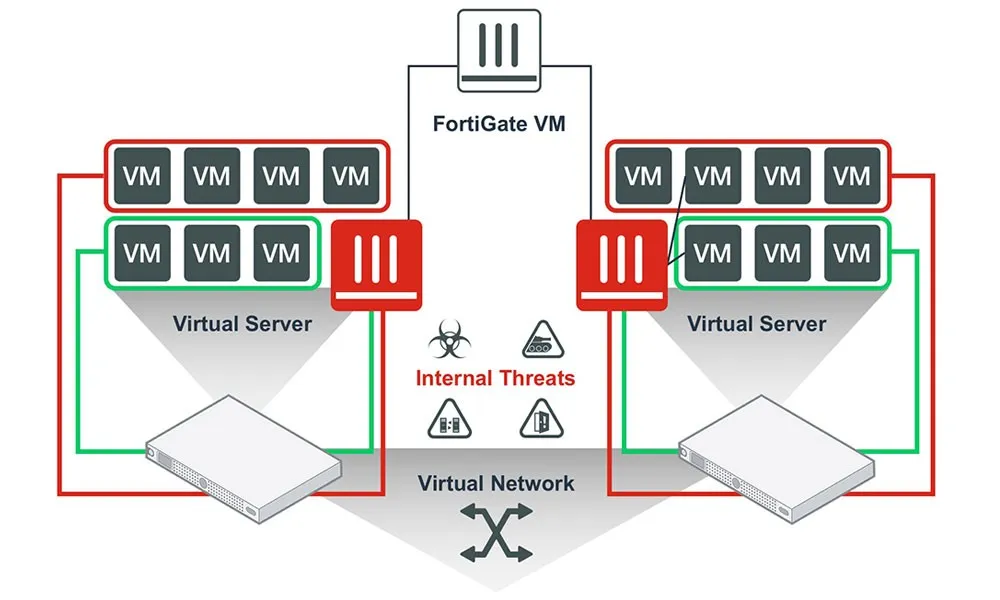 Form Factor Consolidation
Enterprises can scale out or scale up with Fortinet FortiGate-VM virtual appliance offerings-virtualized versions of physical network security elements that deliver the same capabilities as a physical appliance in a virtual form factor. FortiGate virtual firewalls deliver advanced security capabilities in a virtual form factor and are ideally suited to secure virtualized resources in the data center or private cloud. Fortinet Security Fabric elements are all available packages as virtual appliances on a broad range of hypervisors.
The FortiGate-VMs run the same FortiOS operating system and FortiGuard threat intelligence as hardware models. Multiple VM sizes are available for maximizing throughput and performance.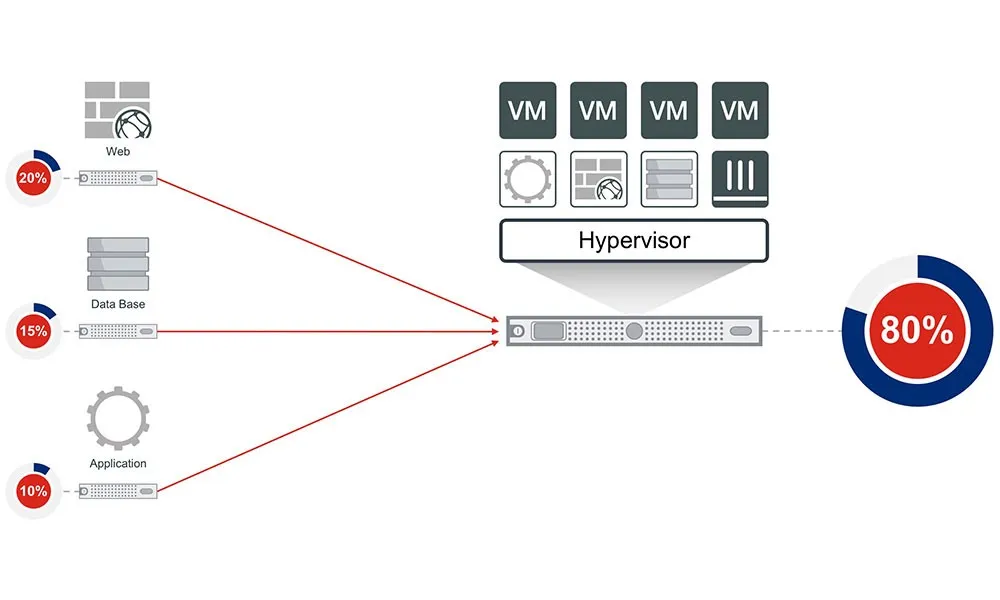 Security Virtual Network Function (VNF)
Service providers need to deliver security services as virtual network functions both on-premises and in cloud. VNF handles specific network functions that run on one or more VMs on top of the hardware-networking infrastructure. Individual VNFs can be connected or combined together as building blocks to offer a full-scale networking communication service. Fortinet's security VNF is deployed as an uCPE on-premises edge, or vCPE hosted in data center/cloud. FortiGate-VM is a small footprint security VNF with consolidated networking and security. It provides full application layer security with next-generation firewall, Intrusion prevention, AV, web filtering, and embedded Secure SD-WAN. VNF orchestration and service chaining is done via partner orchestrators such as Amdocs, Nuage, OpenStack, and others.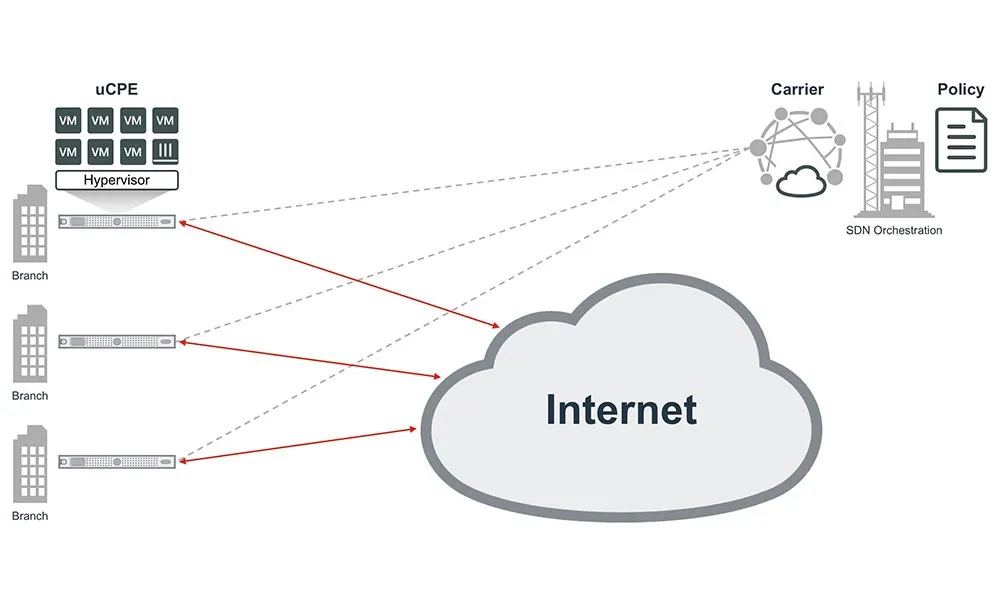 Security for the Mobile Core/Telco Cloud
Mobile carriers need to deliver security services as virtual network functions for LTE and 5G mobile infrastructures. Fortinet VNFs provide a rich set of security functions for the virtual mobile infrastructure, particularly: 4G to 5G, edge cloud, cloud RAN, and telecommunications cloud. FortiOS helps secure critical control plane traffic throughout the telecommunications core. Fortinet VNFs for MEC include edge security and control, user-plane inspection, service chaining, and secure gateways.   VNFs support all modern acceleration technologies such as DPDK, SR-IOV, and AES-NI.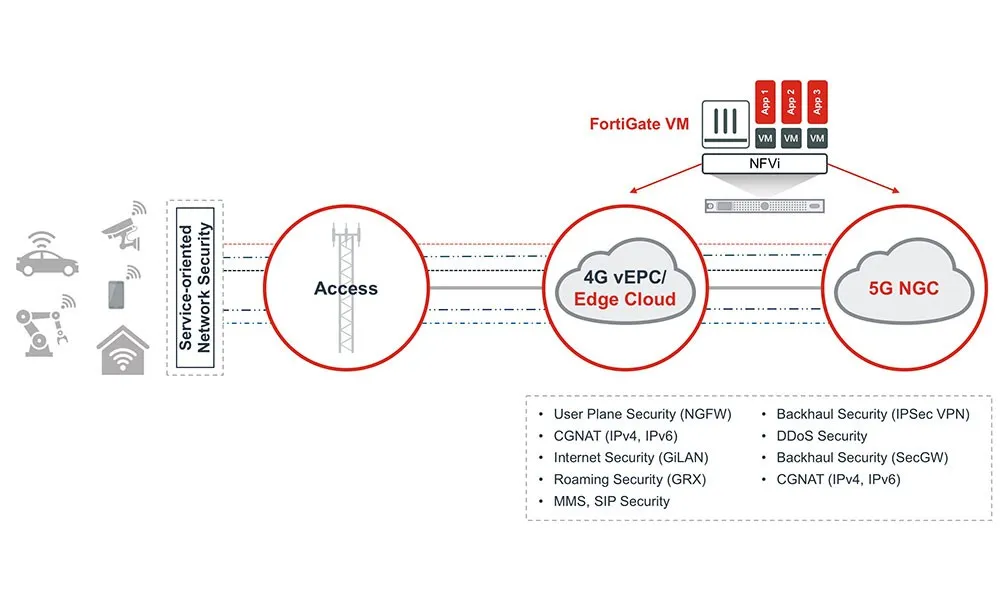 Compliance and Regulatory Requirements
Achieving regulatory compliance with regulation mandates such as PCI DSS, HIPPA, SOX, and GDPR can be a complex and time-consuming burden. Security or governance issues force organizations into using a private cloud. Certain countries require that application data pertaining to people in a particular locale remain within the country. For a broader view of compliance across cloud platforms, FortiSIEM can create compliance reports at the push of a button. FortiAnalyzer provides a closed-loop compliance-gap mitigation and collects fabric logs, while FortiManager enables customers to audit, review, approve, and implement changes from a central place. The benefits are automated compliance auditing and reporting on-premises, in the data center, and in the cloud.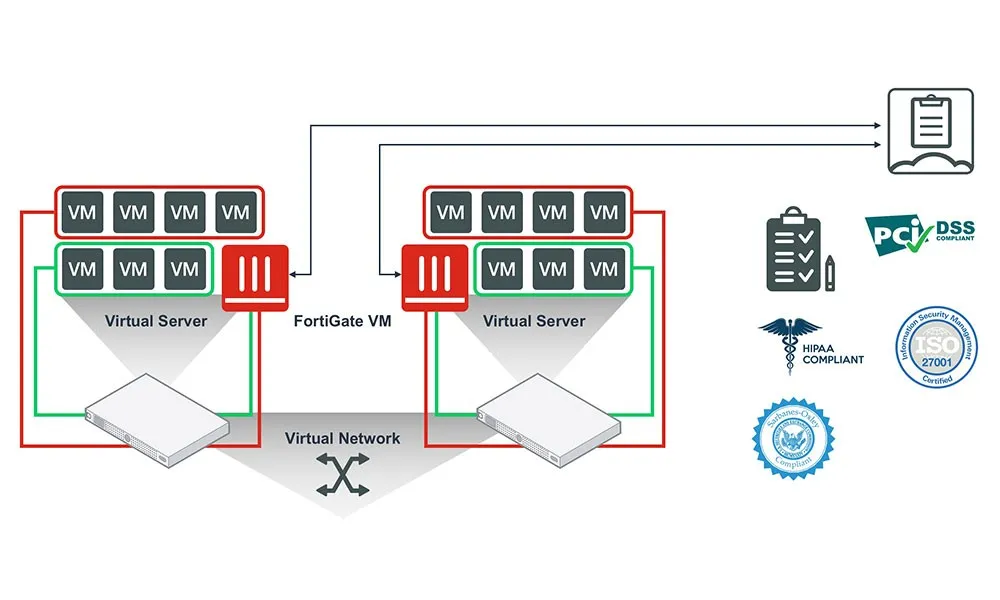 Secure the Virtualized Data Center and Private Cloud
Fortinet's software-defined security solution is certified by leading SDN, virtualization and network function virtualization (NFV) platforms and can be applied to any data center transformed into a cloud environment. Integration with leading hypervisor and private cloud solutions from VMware, Nutanix, Cisco, OpenStack, Microsoft and more, allows automated insertion and orchestration of private cloud security throughout software defined data centers as well as rich API extensibility. Fortinet Fabric Connectors provide open, API-based integration and orchestration with multiple SDN and private cloud platforms, enabling security automation and simplified management.
Fortinet's Private Cloud Security strategy is defined by three key pillars - Native integration of security capabilities to each private cloud platform by abstracting the cloud specific intricacies; Broad protection of applications across all private cloud platforms by offering the broad set of security products and Single pane of glass management via unified management of policy, events and analytics across physical, virtual and cloud infrastructure to eliminate security and compliance gaps.
The FortiGate-VM Series is a virtual appliance version of our market-leading, high-performance FortiGate next-generation firewall (NGFW) that delivers advanced protection for north-south and east-west traffic in virtualized data centers and private cloud.
As an innovator and leader in data center security, Fortinet offers the largest range of virtual appliances that provide in-depth visibility and control of virtual network traffic with scalability, performance, and value. Virtual appliances also deliver elasticity, automation, and orchestration for comprehensive private cloud security, SDN security, and VM security.
Telco Cloud/Mobile Security/NFV
For virtualized service provider infrastructures, Fortinet offers a broad range of next generation virtual firewalls virtualized network functions (VNFs). Powered by Fortinet's Virtual SPU Technology, FortiGate VNFs deliver significant increases in application and carrier security performance through innovative security processing optimizations and the latest packet processing acceleration technologies. The FortiGate NGFW VNFs provide comprehensive network security capabilities; these VNFs have a small footprint, boot within seconds, and require less storage, thereby enabling service providers to protect their virtual networks and cloud platforms cost effectively.