Fortinet FortiTRNG ENT-1

One-Time-Password Application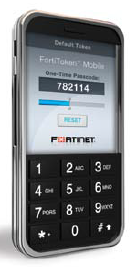 Overview
Superior Strong Authentication Using Your Smartphone
FortiToken Mobile is an OATH compliant, time-based One-Time-Password (OTP) generator application for the mobile device. It is the client component of Fortinet's highly secure, simple to use and administer, and extremely cost effective two factor solution for meeting your strong authentication needs. This application makes Android and iOS devices (iPhone, iPad or iPod Touch) behave like a hardware-based OTP token without the hassles of remembering and carrying yet another device.
Leverage Existing Fortinet Platforms
Besides offering out-of-the-box interoperability with any time-based OATH compliant authentication server, such as the FortiAuthenticator from Fortinet, the FortiToken can also be used directly with the FortiGate® consolidated security platform, including High Availability configurations. FortiGate has an integrated authentication server for validating the OTP as the second authentication factor for SSL VPN, IPSec VPN, Captive Portal and Administrative login, thereby eliminating the need for the external RADIUS server ordinarily required when implementing two-factor solutions.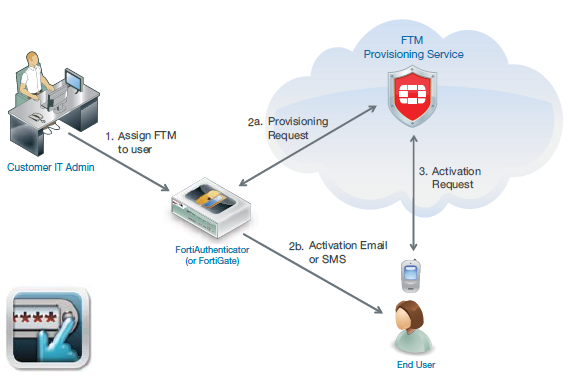 Highlights
FortiToken Mobile Advantages
Unique token provisioning service via FortiGuard™ minimizes provisioning overhead and ensures maximum seed security
Perpetual token license and unlimited device transfers eliminates annual subscription fees
Scalable solution leveraging existing end-user devices offers low entry cost and TCO
Reduces costs and complexity by using your existing FortiGate as the two-factor authentication server
Zero footprint solution
Main Features
OATH time-based OTP generator
Copy generated OTP to the clipboard
OTP time interval display
Serial Number display
Token and app management
Epoch time display
PIN protected application
Self-erase brute-force protection
Supported Platforms
iOS (iPhone, iPod Touch, iPad), Android, Windows Phone 8
WiFi-only devices supported (for over-the-air token activation)
Ultra-Secure Token Provisioning
What makes this mobile OTP application superior to others on the market is that while being simple to use for the enduser, and easy to administer and provision for the system administrator, it is actually more secure than the conventional hard token. The token seeds are generated dynamically, minimizing online exposure. Binding the token to the device is enforced and the seeds are always encrypted at rest and in motion.
Download the Fortinet FortiToken Mobile Datasheet (PDF).