Fortinet FortiTester 3000E

Enterprise-Scale Network Security Testing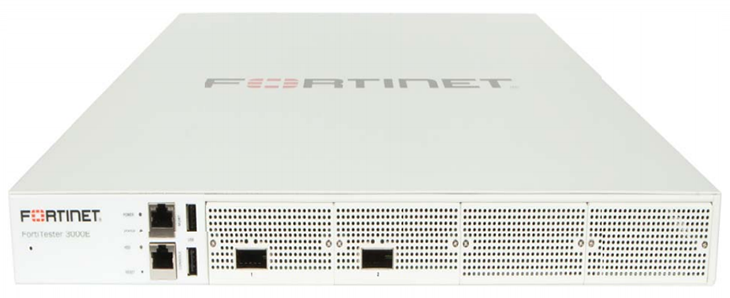 Sorry, this product is no longer available, please contact us for a replacement.
Click here to jump to more pricing!
Overview:
Highlights
Cost-effective performance and security testing system for enterprises and service providers.
Flexible operation modes from 1 standalone device up to 8 devices combined in Test Center mode.
40 GE QSFP+ interface support on 3000E (with 4x 10 GE SFP+ split mode).
100 GE QSFP28, 40 GE QSFP+ with 4x 10 GE fan-out, 10/1 GE SFP+ appliances.
VM version with support for Vmware ESXi and KVM hypervisors.
No add-on licenses. Simple device-based license for all functionality.
REST API for test automation.
FortiTester appliances offer enterprises and service providers a cost-effective solution for performance testing and validating their network security infrastructure and services, providing a comprehensive range of application test cases to evaluate equipment and right-size infrastructure. All test functionality is included in one simple device-based license.
Comprehensive testing and flexible operation
FortiTester provides powerful yet easy-to-use test cases that simulate many stateful applications and malicous traffic. Built-in reporting provides comprehensive information about the test including SNMP stats from the DUT. It enables you to establish performance standards and run audits to validate they continue to be met. A single 40 GE appliance allows over 20 million concurrent connections and new HTTP connection rates greater than 1 million/second, hardwarebased acceleration supports new HTTPS connection rates above 20,000/second. Up to 8 appliances can be grouped in Test Center mode to massively scale performance. 40 GE device interfaces can be split to 4x 10 GE SFP+ for additional testing flexibility. 100 GE, 10 GE devices and VM versions complete the Tester range, with competitive price points for their target customers.
Key Features and Benefits
Simple device-based license
All test cases and tester functionality, including attack traffic samples, are provided in a simple device-based license.
Comprehensive test cases
Includes a wide range of test cases for IPv4 and IPv6 covering application and video delivery, IPsec, mobility, network services, and attack replay.
Advanced test case options
Easily change test case options — for example, such as how sessions are closed, piggybacking, randomize source ports, specify SSL versions and ciphers, include payload for inline scanning and sandboxing. Adjust load parameters while tests are running.
Pricing Notes:
FortiCare Premium Support
FortiCare Premium Ticket Handling, Advanced Hardware Replacement (NBD), Firmware and General Upgrades
FortiCare Premium plus FortiGuard Bundle Contract
Advanced Hardware Replacement (NBD), Firmware and General Upgrades, Premium Support, FortiDB Security Service (DBS)
Prices are for one year of Premium RMA support. Usual discounts can be applied.
Annual contracts only. No multi-year SKUs are available for these services.
Contact Fortinet Renewals team for upgrade quotations for existing FortiCare contracts.
Pricing and product availability subject to change without notice.
Fortinet Products
FortiTester 3000E Enterprise Bundle with FortiCare Premium Support
FortiTester-3000E 1 Year Enterprise Bundle (IPS attack PCAPs update, malware strike pack, web protection & MITRE ATT&CK signature updates), with FortiCare Premium support
FortiTester 3000E FortiCare Premium Support
FortiTester-3000E 1 Year FortiCare Premium Support
#FC-10-FTK3K-247-02-12
List Price:
$9,437.40
Our Price: $8,170.90
FortiTester 3000E ATT&CK MITRE Attack Package
FortiTester-3000E 1 Year FortiTester ATT&CK MITRE Attack Package (Windows/Linux/Mac attacks based on MITRE techniques)
#FC-10-FTK3K-318-02-12
List Price:
$9,437.40
Our Price: $8,170.90
FortiTester 3000E Malware Strike Pack (FortiGuard Auto Update)
FortiTester-3000E 1 Year FortiTester Malware Strike Pack (FortiGuard auto update)
#FC-10-FTK3K-261-02-12
List Price:
$9,437.40
Our Price: $8,170.90