Fortinet Access & Endpoint Security

The Best Security and Management for Network Endpoints

Fortinet strengthens endpoint security through integrated visibility, control, and proactive defense. With the ability to discover, monitor, and assess endpoint risks, you can ensure endpoint compliance, mitigate risks, and reduce exposure.
Product Details
This ordering guide is a quick reference to the most common options for Enterprise customers:
Automated Endpoint Security Prevents Unplanned Downtime From Ransomware Attacks
It is the only endpoint security solution that can protect systems and files even after an endpoint has been compromised.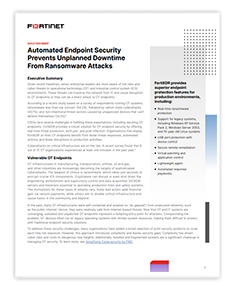 FortiClient Chromebook: Building a Safer Web for Every Student
Fortinet's FortiClient Chromebook extension protects students from harmful content, inherently secures Chrome OS, and ensures CIPA and BECTA compliance.